About Stick'n Stile Decals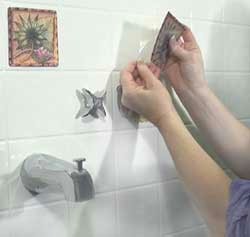 Stick'n Stile design appliqués bring a splash of color, texture and creativity to your bathroom. These easy-to-use appliqués, offer an inexpensive option to change the look of your bathroom at a fraction of the cost it takes to replace your plain tile. Stick'n Stile also, covers "ugly" tile and will add color, enhancing your current bathroom decor.
Stick'n Stile design appliqués adhere to bathroom tile, shower doors, tub and shower surrounds and mirrors. It is water resistant and will not peel or yellow over time. Stick'n Stile is easy to clean with a mild household cleaner.
Stick'n Stile is a raised design appliqué. It looks and feels like ceramic tile – not just a flat decal. No special tools or experience is needed.
---
---