About Solida Cork Flooring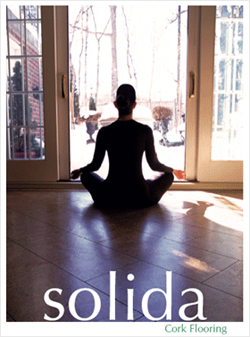 Welcome to the Exciting World of Solida Cork Flooring
Cork, natures most perfect gift, has been fashioned into flooring for over a hundred years. The wide selection of Solida cork designs, colours and shapes offers endless design possibilities. Solida cork floors can be custom coloured and shaped to match any décor.

- Outstanding Acoustical & Thermal Insulation
- Resistance to Moisture Damage
- Comfort & Warmth Underfoot
- Easy Maintenance
- Durability

These qualities combined with great aesthetic appeal makes Solida cork an ideal choice for light, medium and heavy commercial applications such as Libraries, Churches, Museums, Restaurants and Art Galleries. The natural warmth and charm as well as ease of maintenance along with corks natural anti microbial and hypoallergenic properties makes Solida cork a perfect selection for residential uses in Kitchens, Bathrooms, Basements, Family Rooms, Dining Rooms, in fact, the entire house!
---
---